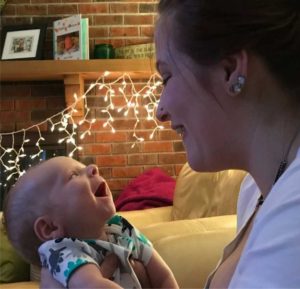 Shine Bright
What a celebration it is to see a mom and son so in love! Did Mary look at Jesus this way? Was she overflowing with joy and light as she bravely waited for his arrival? One of the greatest blessings at Sparrow is seeing the fierce love each of our teen moms have for their children. These brave young women choose one of the most challenging roads, just to experience moments like the one above.
In the picture is Ariana and Kaleb. Their story is similar to many young ladies at Sparrow. Ariana moved from home to home, not having a permanent address. In order to survive she became friends with those who did not have her best interest in mind. She experienced a world where violence and overdose were common place. In the midst of this she found out she was pregnant. She did not know where to go until a relative told her about The Sparrow's Nest.
It was in this place Ariana was able to receive counseling for her history of trauma. She was able to finish her high school diploma and learn about her dream career in education. She opened her first checking and savings accounts. She received pre-natal care and medical care that had previously been neglected. She checked out almost every parenting book possible from the library! Her focus was making sure she gave the best life to her precious son. Ariana sacrificed so that Kaleb would be able to have a future that shines bright.
Each young lady that comes into Sparrow is making one of the biggest sacrifices of her life. She is choosing a path that is life giving and filled with love. As we move into Christmas and celebrate these brave, fierce young moms and their precious children we are asking you to consider making a sacrifice.
Will you prayerfully consider making a donation to The Sparrow's Nest? 
Our goal is to raise $65,000 so that Sparrow can continue to be a safe, loving home to teen mothers and their children. Your gift, of any amount, will go towards helping each family have a chance for a future that shines bright!
Donations can be made easily at: http://www.thesparrowsneststl.org/ or by returning the enclosed envelope. Our address is:
6209 Mid Rivers Mall Dr., #119
St. Peters, MO 63304
Thank you for your kind consideration in helping make this ministry possible for 2019!
Merry Christmas,
Elisa Zieg, MA
Executive Director
Let your light shine before others, so that they may see your good works and give glory to your Father who is in heaven.- Matthew 5:16
Ways you can shine bright….
$10 gives a child baby wipes
$25 buys a package of diapers
$115 pays for a mom to have a safe and cozy bed for 1 night
$500 provides weekly counseling for 3 months
$1000 provides 2 college scholarships
$5000 provides life skills classes for a year
$15,000 pays for the whole house for 1 year
Donations are tax deductible and may even be eligible for the state of Missouri Tax Credit.